Petroleum: Determining the Surface Area of an Oval Tank.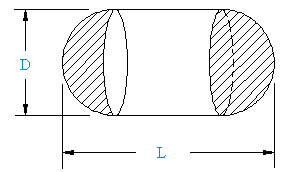 Find and simplify a formula for the surface area of the oval tank shown to the right.
If the diameter is D = 2.5 meters and the length is L = 6.5 meters then what is the surface area in square feet?
Solution:
The formula for the surface area of the tank is:

We have discovered that the area is equal to the area of an open cylinder L units long (one with no ends).

The surface area in square meters is

The surface area in square feet is
---
Written by Graham Cocksedge, September 21, 1997