Nuclear Medicine: Scaling Images
Problem:
In a certain imaging study the screen is set to a scale of 1:3 (i.e. 1 cm viewed on the screen is equivalent to 3 cm in the person's body.) If a screen view of the liver displays a lesion area of 1.6 cm2, how large is the lesion area in the person's liver?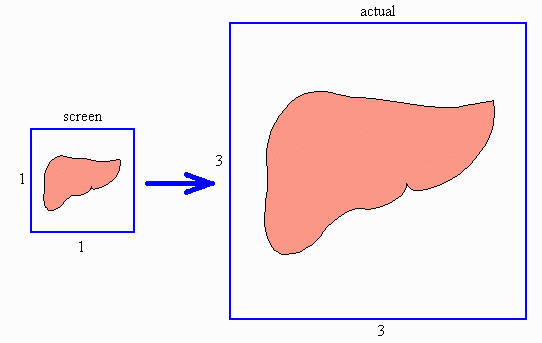 Solution:
You might say the solution is an easy ratio and proportion or is it? The answer is not as simple as 3 x 1.6.
The trick is to recognize that when area is involved both dimensions (length and width) are changing. If you visualize a square 1 unit by 1 unit that expands to a square 3 units by 3 units, the area of the square increases by a factor of 9.
Or

The correct solution in this case is :

---
Written by Louise Routledge, September 1, 1998